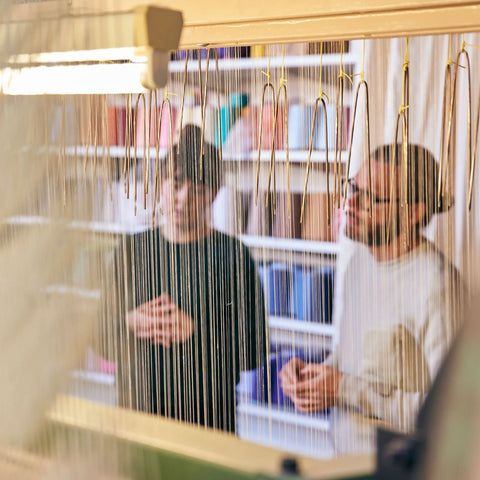 Navette by Alexis André
Your art practice is 100% digital. Why do you sometimes feel frustrated with this?
The problem with digital art in general, and generative art in particular, is that artists must relinquish the responsibility to the collector on how to display and experience the work. As an artist, we give a lot of freedom on how to show our pieces. In contrast, galleries and museums provide the ideal environment for a viewer to appreciate the art at the scale at which they were created. Some NFT works, like Crypto Punks, work just as well on a watch as they do on huge screens, but that's not the case with my work. The art loses the subtlety if it is displayed too small—with its texture effects, blurs... I want to regain control over the scale of the works I create. For example, in Tokyo, my digital clocks from the "720 minutes" series are displayed in the Shibuya district, on a giant screen. It functions much like a town center clock, to purposefully bring art to the public.
For this work, we can create prints, or use another medium like tapestry that speaks to the size and scope of the pieces. The output imposes the distance needed to really appreciate the work as the artist imagines it. 
How was Néolice chosen to be the production partner for this project?
There is an incredible culture of tapestry surrounding Aubusson. Culturally, it is a tradition that has meaning, and that the local people are deeply proud of. Despite being a small village of 6,000 inhabitants in the middle of the Creuse district in Central France... I discovered a willingness to stay up to date, to use the latest technologies to preserve old-fashioned values.
With Trame, we discussed working with Néolice, a division of the Robert Four factory specialized in digital manufacturing. They offer products that are different from handmade tapestries that come with incredible advantages. In particular, their process allows the integration of generative art and AI and vast options of materials, colors and digital design outputs.
What is the idea behind the "Navette" collection?
I wrote an algorithm that generates images that are designed to be woven automatically. Because of this, each NFT buyer is able to claim a tapestry. This is part of a larger collection that has aesthetic similarities but is still a unique work based on a traditional method of making. With this collection for Trame, everything I had dreamed of over the last few months is coming to life, thanks to ultra-motivated collaborators.
What about the algorithm you developed specifically?
I had to adapt my code to the Neolice loom, which offers a limited number of colors instead of my typical palette of millions of colors on screen. On the other hand, I was able to introduce the presence of wool, silk or Lurex threads, which will give depth to the tapestry. I also had to deal with physical "pixels" that are not square, because a warp thread is wider than a weft thread. Also, I introduced the possibility of generating different types of stitches. This is possible thanks to the most unique loom in the world, capable of weaving tapestries up to 1,80 m wide. I made sure that the algorithm outputs only high quality iterations, which live up to their full potential in the tapestry version. What I had imagined—you have to see the tapestry to understand.
Why is that?
In my digital work, I use a lot of blurs and gradients, which do not work with the Néolice loom, since it uses a limited number of colors. Working from this constraint, I was therefore forced to focus on a simpler rendering, with a paradoxically more digital rendering that I usually try to free myself from. I focused on the designs and mixed patterns typical of generative art with traditional tapestry forms. I also played with textures, volume, presence, and the concept of ambient light to create a work intended to be displayed on a wall.
By immersing myself in the tool, I can anticipate the final result, but there remain unknowns, a sense of randomness. There will inevitably be an interpretation of the algorithm by the machine which will create surprises. I am looking forward to those!
What do you want to demonstrate with this collection?
If this is successful, then the general public will better understand what I wanted to create. We will be able to launch a larger production that will demonstrate the aesthetic potential of generative art. I wanted to do something that resonates with the history of Aubusson.
Navette was released on March 3, 2023.